LOCAL.
PROFESSIONAL.
RELIABLE.
Walkers Construction pride themselves on being a well established local company that has the skills to deliver professional workmanship and the dedication to offer reliable support.
Contact us today to find out how we can help you.
Construction and Building
With a wealth of knowledge within the trade, our builders in Reading are able to offer a full range of building work, from property extensions to loft conversions.
Our trained team can expert take care of the entire exterior of your property. Including everything from the guttering, fascias and soffits to the chimney, cladding and roofing.
Whether you are looking to renovate your kitchen, install a new bathroom or give your home a new look, our skilled workers will be able to deliver excellent results every time.
We also offer a tailored service for all of your garden and groundworks needs, including patios, fencing, decking and driveways. Give us a call to discuss your project.
A local, professional and reliable firm, capable of providing building and refurbishment services to private residences through to commercial businesses.
Walkers work with established and reputable plumbers, electricians, carpenters, builders, roofers and groundsmen, all of whom can certify their work, where applicable, to expected industry standards. As industry professionals, Walkers are committed to delivering the highest quality workmanship, on time, every time.
We operate throughout Berkshire and surrounding areas, offering competitive and affordable rates. Walkers are proud to be committed to ensuring our service is reliable, professional and of a high standard. When it comes to refurbishments and extensions, our builders in Reading are the team for you.
Here at Walkers Construction, we take pride in the workmanship we deliver and aim for complete customer satisfaction every time. Take a look at some of the reviews our builders in Reading have received from happy customers.
Dr. H – Kingwood, Oxon
Andy and his team built my house extension, to include a sitting room and boot room, over the course of 6+ months. The work required detailed stonework to match the existing building, which made the build more complicated, but the work was finished to a very high standard and I still enjoy admiring the quality of work and receiving compliments from my neighbours. 
At least as important during the process was the relationship of trust that Andy and Nikki, his administrator in the business engine-room, earned through the duration of the work. The build lasted for many months and there was not a single day when Andy was not immediately available to answer questions and provide assistance if required. 
Andy used a team of trusted contractors who seemed to have the same work ethic as him and having such a friendly and helpful team on site meant that the process never became intrusive.
Andy was flexible to allow various changes to the plans as the build progressed, showing great patience at times, and I am delighted with the finished product.
Mr W - Wargrave
We contracted Walkers Construction to carry out an extensive two story extension with other upgrades to the existing house. They came recommended by our architect and by previous customers.
Our project required tradesmen to be on site for nearly 10 months but I can honestly say it never became a drag, this a testimony to Andrew Walker's organisation and insistence for keeping a tidy and clean site. We faced some challenges during the ground work phase which required some rethinking; but with good communication these where over come to the satisfaction of all involved and the project moved on with little time lost.
All the tradesmen including subcontractors where managed by Andrew to ensure efficient use of time and materials; without fail, everyone on site was reliable, friendly and helpful above and beyond the call of duty.
We are really happy with the quality of all the work carried out from bricklaying, roofing, plastering, electrical, plumbing, heating, decorating, flooring, and tiling, to kitchen fitting. We would have no hesitation in recommending Walkers Construction to anyone looking for a reliable skilled team of tradesmen who are happy to give advice and are dynamic when faced with challenges.
Mr T – Woodley
We chose Andy Walker because of a recommendation from architects, prior reputation and testimonials and the very good admin support he had from his main office (i.e. Nikki!). The job began and ended exactly on time and budget as per the contract. Andy and his sub-contractors were always friendly, hard-working and polite. They took particular care to leave everything clean and tidy after work every evening and he responded quickly to any questions or issues that we had.  We were very happy with the finished work which exactly matched design drawings. We would recommend him to anyone thinking of having building works done.
I have employed Andrew Walker and his team on a number of projects over the last three years: a complete refurbishment of an office building; installing a new bathroom and kitchen in a listed property; refurbishment of two more bathrooms and a downstairs cloakroom with marble floors.  In all these projects, the quality of the workmanship has been outstanding, and has been carried out on time and within budget.
Andrew has been unfailingly helpful and takes particular care to protect from dust and damage the parts of the building outside the work area, as well as always keeping the work area itself clean and tidy.   His carpentry work is excellent, and he is an expert in tiling.  His team of other specialist tradesmen provide the full range of building skills and are a pleasure to work with.
Andrew Walker provides a first-class quality and great value for money service.
Mr J – Henley on Thames
Mr & Mrs K - Reading
We engaged Walkers Construction to renovate our bathroom. Right from the start we were pleased with the service, the quote came through quickly and we were given the flexibility to purchase our own materials but with Andy on hand regularly for expert advice and to let us know exactly which items we needed to order. 
Works started on time and proceeded on schedule, we were kept informed throughout with what would be happening and when. Andy and the team were great, they worked neatly and tidied every night so we were not living in chaos.
The works finished on time and we are so impressed; the bathroom looks amazing and has a really high-quality finish with all details attended to.
The works have exceeded our expectations and we would not hesitate to recommend Walkers Construction to anyone needing building works.  
WE ARE A COMPANY BUILT ON TRUST, QUALITY AND RELIABILITY
We work closely with our customers, giving them valuable input throughout the project to ensure every step of the process runs as smoothly as possible.
With over 20 years of experience within the trade, Walkers Construction can assist you with your entire project from the initial planning and design stage through to the construction work and finishing touches.
DESIGN

STEP ONE

Our experienced team can provide a full design service taking your specific requirements, preferences and budget into consideration.

PLANNING

STEP TWO

With a style and design in mind, we will then plan the project ensuring that every step of the process runs smoothly and efficiently.

CONSTRUCTION

STEP THREE

Our skilled and experienced team of industry experts will undertake all construction work with attention to detail, dedication and pride.

COMPLETION

STEP FOUR

Once all work is completed, where applicable; we will work closely with building control to ensure that your project meets relevant building regulations.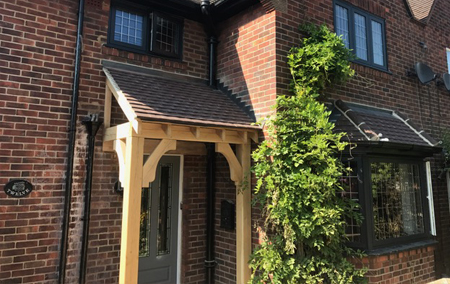 We are proud members of the Federation of Master Builders - an official industry regulator.
As part of our membership, we have been vetted and checked to ensure we are providing services that are up to standard, safe and professional; giving our customers added peace of mind and confidence in our work. We take our responsibilities extremely seriously and take pride in our longstanding FMB membership.
Working in Partnership with HS Direct Ltd
Walkers Construction work in close partnership with HS Direct Ltd, a highly reputable Health and Safety company that has been successfully operating since 2004.
HS Direct Ltd help us ensure we are always offering our customers with a safe and secure construction service from start to finish. Our customers can enjoy complete peace of mind that their project will be completed with a strong focus on safety.
Proud British Institute of KBB Installation Members
Walkers Construction also have recently become bembers of BiKBBi (The Institute of Kitchen, Bedrooms and Bathroom Installers) - The industry's symbol of quality and trust. Why Choose a Member?
Copyright © 2021 Walkers Construction
AB Walker Associates Ltd t/a Walkers Construction
VAT No. 265 9915 54  -  Reg No. 10675742